ULTRA VIOLET, WARHOL SUPERSTAR, DIES AT 78 (2014)
Details

Hits: 2590
Ultra Violet, Warhol Superstar, Dies at 78
By Anita Gates
Photo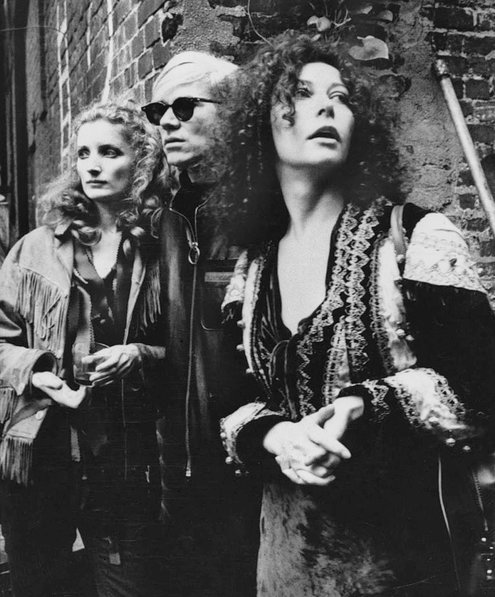 "Ultra Violet (Andy Warhol Superstars) morreu. Ela tinha 78 anos e estava com câncer. Conheci a Ultra em uma das exposições que participei com ela e com vários outros Superstars da The Factory. Meu nome e minha foto continuam online no site oficial Andy Warhol Superstars falando sobre as exposições e eventos que participei com eles. Triste." (Fernando Carpaneda)
Ultra Violet, right, in 1968 with Andy Warhol and Viva. Credit Sam Falk/The New York Times
15 jun. / 2014 - Isabelle Collin Dufresne, the French-born artist, actress and author known as Ultra Violet, the beauty among the superstars of Andy Warhol's glory days at his studio, the Factory, died early Saturday morning at a Manhattan hospital. She was 78 and lived in Manhattan and in Nice, France.
The death was confirmed by William Butler, a family friend. A cousin, Carole Thouvard Revol, said the cause was cancer.
In 1973, Ultra Violet had a near-death experience, for which she blamed her habits of excess in the decade before. In the 1980s, she condemned the rampant drug use, orgiastic sex and unchecked egotism at the Factory, repented for her part in it and became a member of the Church of Jesus Christ of Latter-day Saints.
She worked as an artist until her death. A New York exhibition at the Dillon Gallery in Chelsea this spring, Ultra Violet: The Studio Recreated, featured a selection of her paintings, sculptures, prints, film and neon works. The show closed three weeks before she died.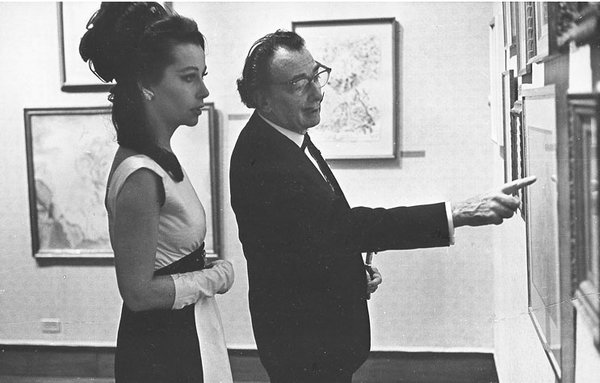 Ultra Violet with Salvador Dalí at the Huntington Hartford Museum in New York in 1969. Credit UltraVioletweb.com
Summing up her artistic abilities in a 2009 video interview, she said: "I have infinite imagination. Maybe I don't have too much technique." Much of her recent work had dealt with Sept. 11, using the Roman numerals IX and XI as a graphic palindrome, and with the iconography of Mickey Mouse, whom she often depicted wearing angel wings.
Ms. Collin Dufresne was in her late 20s when she met Warhol while having tea at the St. Regis Hotel with the artist Salvador Dalí, a lover and an earlier mentor. It was 1964, and Warhol immediately expressed interest in having her in his films. She made her screen debut the next year under her real name in Warhol's The Life of Juanita Castro, an improvised black-and-white political comedy.
By the time she appeared in her second Warhol film, I, a Man (1967), which also starred Nico and Valerie Solanas (who later shot and seriously injured Warhol), she had taken the name Ultra Violet. But when she was not in character, with some combination of purple hair, purple lipstick, trowel-heavy purple eye shadow and beet juice as cheek color, she looked like the prettiest girl at the prom — a soignée brunette with a shoulder-length bouffant, delicate features and maximum false eyelashes. And she had a French accent.
Isabelle Collin Dufresne was born on Sept. 6, 1935, in La Tronche, France, near Grenoble, to an upper-middle-class family. She often said that when she had shown rebellious tendencies as a teenager, her parents had a Roman Catholic priest perform an exorcism. Apparently, the effects were delayed.
She was also sent to a reform school at one point and studied art in Grenoble before being "shipped off" to New York, as she always said, where it was hoped a new environment might tame her.
As Ultra Violet, Ms. Collin Dufresne appeared in some 17 films, not counting numerous documentaries made later about the period and the Factory regulars. Even those films that were not directed by Warhol or his acolyte Paul Morrissey tended to be Warholian, dealing with the counterculture, drugs or at least fantasy or horror, and her co-stars in those non-Warhol films often included other Factory superstars, as they were known. She was in a 1970 "Cleopatra," for instance, in which Viva played the title role.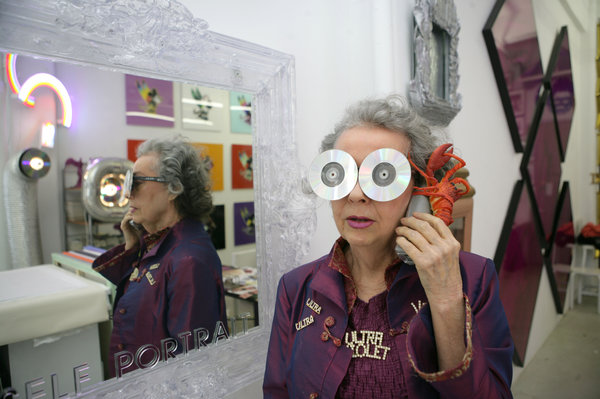 Ultra Violet in her studio. Dozens of her works were on view at the Dillon Gallery this spring. Credit
Lizzy Sullivan
But Ultra Violet also appeared in "Midnight Cowboy" (1969), in a party scene with her fellow Factory habitués Viva, International Velvet and Mr. Morrissey; had a small part in Milos Forman's "Taking Off" (1971); and played a kinky party guest in Paul Mazursky's "An Unmarried Woman" (1978), with Jill Clayburgh. Ultra Violet's final film acting job was in "Blackout" (1994), directed by Paulita Sedgwick, a cousin of Edie Sedgwick, the heiress and Factory starlet who died in 1971 in her 20s.
In Famous for 15 Minutes: My Years With Andy Warhol, Ultra Violet's 1988 memoir, she wrote about her return to religion after a nervous and physical breakdown. She kissed and told, naming among her past lovers Rudolf Nureyev, the artist Ed Ruscha and Mr. Forman. And she denounced the person she had been during the Warhol years as an "unleashed exhibitionist chasing headlines."
"I survived by grace alone," she told a PBS interviewer in 2005.
Ms. Collin Dufresne, who never married, is survived by two sisters, Catherine Cara and Edwige Merceron-Vicat.
Interviewers often asked her about the decade in which she was at the center of celebrity culture. In a 2011 interview with USA Today, she said, "I mean, it was an exciting era in that there was a cultural revolution going on." She acknowledged that there was no comparable shake-up underway in the 2000s so far, but added, "I think we are constantly in some kind of a flux."
She could be a serious interview subject, as when in David Henry Gerson's 2011 documentary, "Ultra Violet for Sixteen Minutes," she announced, "As you come closer to your true nature, you are more fulfilled."
But she could also jab. At an arts festival in Bridgehampton, N.Y., in 2010, she and her longtime Factory friend Taylor Mead were confronted by a young interviewer who appeared to have no idea who they were and simply presented them with generic questions like "Whose work do you like?" and "Why are you here?"
Ultra Violet tossed off one answer, "I like my own work." And then, as if it were 1965 again, she said, "We are here because we are world-famous.".