Exposição Andy Warhol "Supernovas" e Art Renegades
Details

Hits: 5367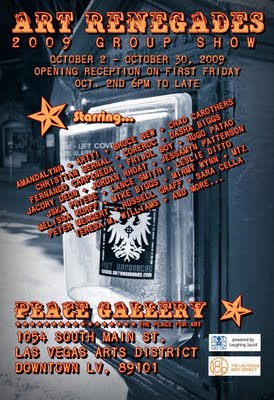 Exposição Andy Warhol "Supernovas" e Art Renegades
Fernando Carpaneda estará expondo em Las Vegas com o seu grupo Art Renegades (Renegados da Arte) na Place Gallery que fica localizada no Las Vegas Arts Distric em dowtown. A exposição acontecerá de 2 a 30 de Outubro.
Ele envia também um video da exposição "Supernovas" com os artistas da The Factory do Andy Warhol. "Supernovas" teve a proposta de reunir artistas consagrados historicamente e alguns artistas emergentes (The Ante Art Movement!) selecionados pela curadoria. Fernando Carpaneda foi o único artista brasileiro selecionado para o evento.

Entre os artistas que participaram do evento estavam: Ultra Violet, Billy Name, Leee Black Childers, Jayne County, Bibbe Hansen, Allan Midgette, Louis Waldon, Justin Drew, Robert Munn, Sara Cook e vários atores dos filmes de Andy Warhol.

O evento fez parte da serie "Modern Masters: Andy Warhol" realizado pela BBC.

Video *Supernovas*! Andy Warhol Superstars & the Ante` Art Movement. Video no You Tube: http://www.youtube.com/watch?v=v50tvYAj6Vc

21st CENTURY HAPPENINGS Presents SUPERNOVAS! Warhol Superstars & the Ante` Art Movement

Billy Name, Kymara Lecchi-Lonergan, Milo Rock, Robert Munn, Sara Cook, and Miestorm Pierre Q. Serpent Invite you to join us.

... As we magically transform the Art Space at The Historic Chelsea Hotel, 222 West 23 RD Street, NYC...into a Silverized Celebration of The Warhol Superstars and The Ante` Art Movement!!!!!
Food and Drink by Cafe Bocca and Hudson Valley's Finest Food and Beverae Producers!
Music! Whores's Mascara (Billy Name won't let them escape!) Introducing. The Historic Ixion Burlesque... Albert Garzon's Fabulous Cabaret Show!!!!! Featuring Ixion burlesquers Cici James (a/k/a Sophia Berlin), Mademoiselle Lena (a/k/a Venus Velour) and of course Albert Garzon.
*****We are pleased to welcome the BBC who will be filming for their series, "Modern Masters: Andy Warhol" and filming "Screen Tests!"******
Art Film! Performance!
Featuring The Warhol Superstars
Billy Name (godfather of Ante` Art) Ultra Violet, Mary Woronov, Allan Midgette, Robert Heide, Bibbe Hansen, Louis Waldson, Ivy Nicholson, Walter Steding, Penny Arcade... The list keeps growing!!!!
also featuring...Our wonderful friend David Dalton!!!!!
NEW WORKS BY ANTE` ARTISTS...
ROBERT MUNN AND SARA COOK
THE INCOMPARABLE JAYNE COUNTY
RICK LONGO-BURROWS
CHRISTOPHE von HOHENBERG
COCO DALTON
PHILIPPE LAURENT
JOHN SCRIBNER
ROBERT THE
FERNANDO CARPANEDA
and more!!!!!!
We are also very excited to welcome The Fashion Design and Work os Justin Drew!!!!!" Special Film Screening of Andy Warhol's Factory People!
DVDS of this documentary will also be available...
WE ARE PLEASED TO HAVE PLANET GROUP ENTERTAINMENT AS A SPONSOR FOR THIS EVENT !"

Trabalhos de Fernando Carpaneda e HOOP na Exposição Supernovas Os Superestars de Andy Warhol
Time Waits For No One
"Conheci todos os artistas vivos da The Factory semana passada inclusive a Ultra Violet que não apareceu na abertura mas por conta do destino me encontrei com ela no último dia do lado de fora da galeria por conta de um atraso da organizadora e, conversamos. Algumas atrizes não aceitam tirar fotos".

Fernando Carpaneda
www.fernandocarpaneda.com