CO2 NO 'ROCK PÉ VERMELHO' (SÁBADO, DIA 10/10)
Details

Hits: 280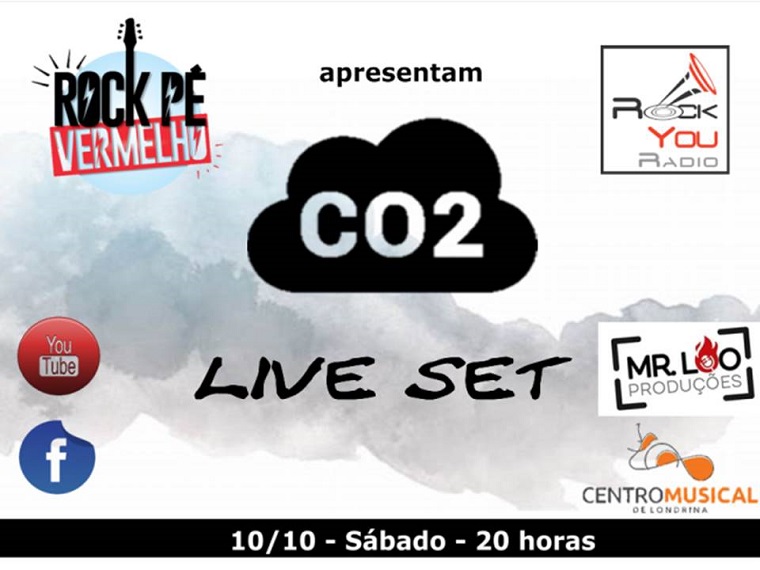 10/10/2020
Sábado às 20 horas: CO2 Live Set
A banda londrinense CO2, que conta com Rodrigo Guarezzi nos vocais e Augusto Shoji no baixo, Osmani Jr, nas guitarras e Kadú Guariente, na bateria, voltam em uma live da pesada! CO2 relança os seis singles gravados de 2015 a 2018. Entre os singles, PHD, Pérolas aos Porcos e Vampirismo.
CO2 no início do ano se apresentou no III Festival Londrina Calling ao lado das The Droogies, Surface e Imagery bandas veteranas do underground londrinense.
Ao retornar, em formato live a ser exibido pelo canal "Rock Pé Vermelho" no link https://www.youtube.com/channel/UCgv0__TIlbQJkSy1Pg42J0A, CO2 apresentará junto às próprias composições, clássicos do grunge como Man In The Box do Alice In Chains e Even Flow do Pearl Jam e renderá homenagem aos clássicos do rock em sons como War Pigs do Black Sabbath e Panama do Van Halen. A live tem parceria da Rock Pé Vermelho, Rock You Radio Web, Coalizão Autoral Londrinense (CAL), Mister Loo Produções e Centro Musical Londrinense.
Participe e inscreva-se no canal do CO2 no Youtube: https://www.youtube.com/channel/UCBoQZHgma1yG8yPB5rsFwgA
CO2 no Spotify: https://open.spotify.com/artist/1GPOA3BaSOBkWjLokNuOQB
CO2 no Instagram: @co2project
CO2 no Facebook: https://www.facebook.com/CO2pro
Contatos:
Para Shows e Lives: 43 99937-9876 (Kadu) / 43 9937-8937 (Osmani Jr) / 43 9992-7813 Rodrigo