MISTÉRIO DE 'LOST': EXPLICADO!
Details

Hits: 1309
MISTÉRIO DE LOST
Michael Emerson, o Benjamin Linus de 'Lost', explica final da série
Ator também comentou rumores sobre acontecimentos misteriosos ao longo da trama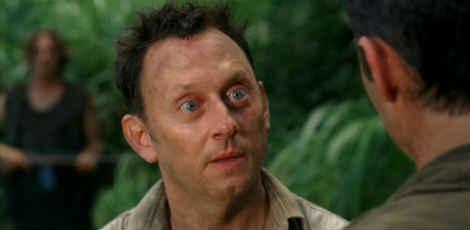 Michael Emerson como Benjamin Linus, em cena de 'Lost' / Divulgação
Da Estadão - http://jconline.ne10.uol.com.br/canal/cultura/imagem-e-som/noticia/2016/11/03/michael-emerson-o-benjamin-linus-de-lost-explica-final-da-serie-259177.php
3 nov. / 2016 - Finalmente alguém falou sobre o final de Lost. O ator Michael Emerson, que deu vida a Benjamin Linus, explicou o fim da série durante a Walker Stalker Convention, realizada no último final de semana em Atlanta, no estado americano de Georgia. As informações são do site Comic Book.
O ator começou desmistificando os rumores de que as coisas que ocorriam na ilha eram apenas alucinações dos personagens. "A única coisa que tenho certeza é que tudo que vocês viram na ilha realmente aconteceu, ao longo das primeiras cinco temporadas. Tudo aqui foi real", disse Emerson.
Depois, ele revelou seu ponto de vista sobre como Lost terminou: "O final é passado no futuro. Anos, séculos, milênios se passaram. Nós estamos em lugar depois da vida, na eternidade, se preferirem. Todos os personagens da série se reuniram aqui para celebrar o fim da vida. Todos eles vão passar para uma outra vida feliz. Assim como em Shakespeare, todos vão em pares, casais. Isso porque, de acordo com as regras de Lost, você só pode ir para o paraíso - se quiserem chamar dessa forma - se passar por um espelho redentor, com alguém que te amou sem ressalvas", disse.
BENJAMIN
Só que Benjamin, seu personagem, não participou dessa 'passagem' "Todo mundo teve isso, acredito eu, exceto Benjamin Linus. Foi por isso que ele não conseguiu ir, por isso ele teve que esperar. Ele precisava encontrar seu espelho da redenção", explicou o ator.

'Person Of Interest' Series Finale 'Satisfying, Surprising' Says Michael Emerson (AKA Harold Finch)
Heather Newman , CONTRIBUTOR
I write about how technology can entertain you and improve your life.
http://www.forbes.com/sites/hnewman/2016/06/21/person-of-interest-series-finale-satisfying-surprising-says-michael-emerson-aka-harold-finch/#478f82847d07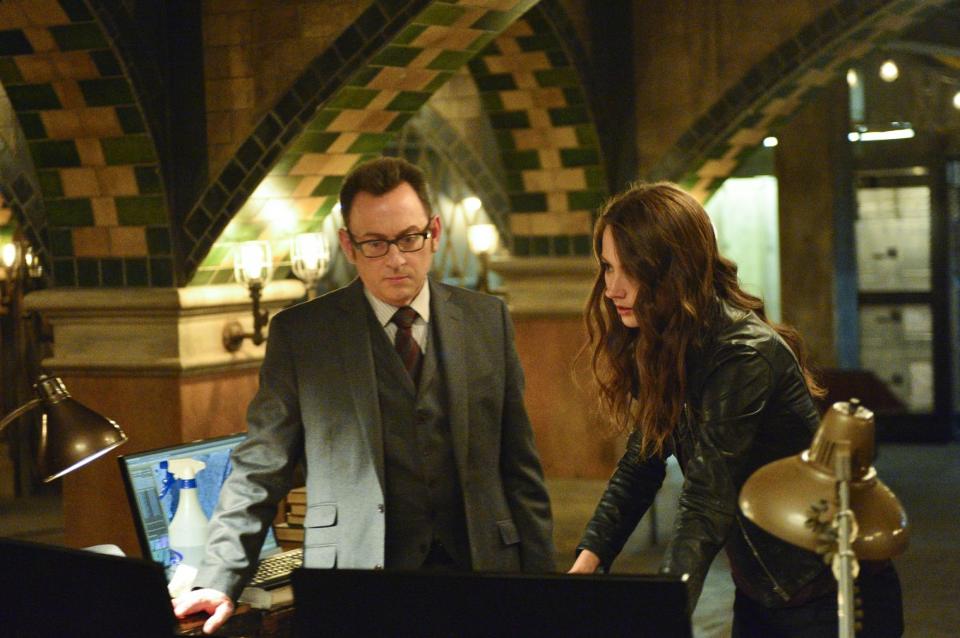 Michael Emerson and Amy Acker (Harold Finch and Root) as fans will always want to remember them from 'Person of Interest.' The series finale airs tonight. (John Paul Filo/CBS)
21 jun. / 2016 - Person of Interest ends its five-year run tonight with "Return 0," and one of its lead actors says the episode does right by the surveillance supercomputer series' fans.
(This story does not contain spoilers.)
Two-time Emmy Award winner Michael Emerson plays Harold Finch, the inventor of said supercomputer, and he's delighted POI viewers as the sweet and conflicted Finch every bit as much as he enthralled "Lost" fans as the morally-ambiguous Ben Linus.
Good news: In real life, he sounds much more like Mr. Finch.
"I look so harmless in the real world, it's a good cover for a villain," he said with a laugh. He got his first big part as a serial killer on The Practice, and began specializing in characters who were "damaged and dangerous."
But after Lost, he was on the lookout for something new. J.J. Abrams' production company Bad Robot, which had coordinated Lost, offered him the script for Person of Interest.
"It sounded good to me," he said. It was dark, it had an edge, and it was shooting in New York -- a convenient location for him. "It was [also] the chance to place a good guy."
His character, Harold Finch, invents a super-surveillance computer with an artificial intelligence that he then shackles, for fear of what that power could do if corrupted by humans. (Needless to say, super-surveillance computing power is eventually corrupted by humans in the show.)
The Machine, as it's called, begins the series by sending the social security numbers of individuals in New York to Finch and his recruited, reluctant partner, ex-CIA agent John Reese (Jim Caviezel). They never know if the numbers are victims or perpetrators, but in either case they're about to be involved in a violent crime.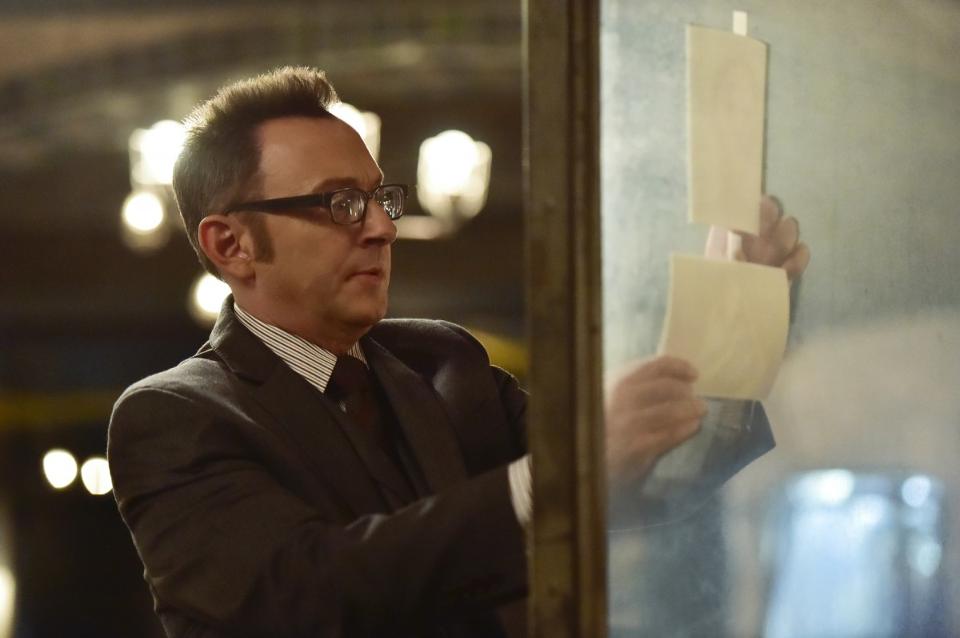 No matter how much tech surrounded the team, Harold Finch still printed out every photo and taped it to a window. (John Paul Filo/CBS)
While Finch never got to develop too much as a character--the perils of being on a more-formal, procedural show on CBS, Emerson said--he appealed to the actor, and his relationships with his comrades definitely adapted over time.
"He was every man's conscience. At the same time, he was Prometheus. He had brought something that threatened the structure of civilization," Emerson said, calling it "almost poetic."
"I had to continue being the dependable Mr. Finch. But [Reese and Finch] became slightly more domestic. We were never going to be able to hold onto that two-strangers-on-a-death-mission. People got invested in Mr. Reese and Mr. Finch."
Emerson's character is responsible for much of the exposition in the series, both in his dialogue with other characters--"It got me good at memorization"--and in days spent alone, filming lines spoken to screens and microphones.
"I have a good memory and I'm good with language," he said. "I got it. It didn't often need to be explained to me."
The part that stumped him was actually sports-related: Harold Finch was a fan of using sabermetrics to analyze baseball, and Emerson knew nothing about it, especially given that he was "not a sports person." That said, "It was a very Finchian undertaking."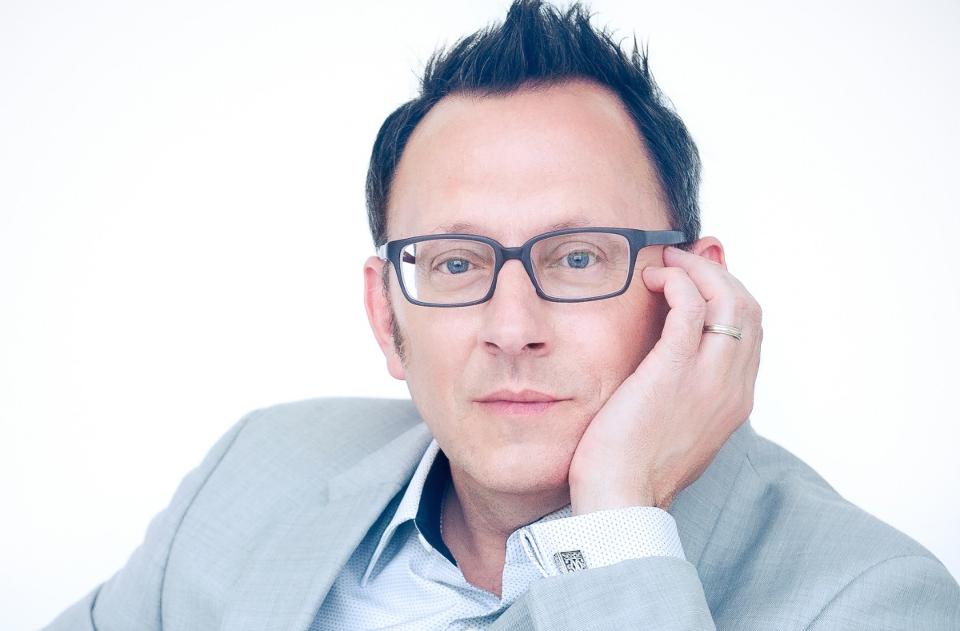 Michael Emerson, our favorite antagonist on 'Lost,' reflects on the season finale of 'Person of Interest.' (Photo by Jean-Claude Vorgeack)
His background in theater helped him with the more-technical parts of his performance, especially his work with classical plays, he said.
"I've been groomed to interpret and articulate," Emerson said. "I'm happy in my camera life to bring those skills to bear."
CBS ran the series' last season at a short 13 episodes, burning through them twice a week in May and June. But Emerson said he didn't mind.
"A show is going to end when it's going to end. I think the end of the series, there was something good about it being for 13 episodes," he said. "They had to punch it along a little more."
The ending itself is both satisfying and surprising, he said. He didn't see the final script until two days before the shoot.
"I didn't know how they would wrap it up. I didn't feel the end coming, though I could feel the stakes rising," he said. "When I could finally see the end, I thought, oh my god, they're doing that. The narrative dictates its own end. They honored the five years and their viewer's expectations."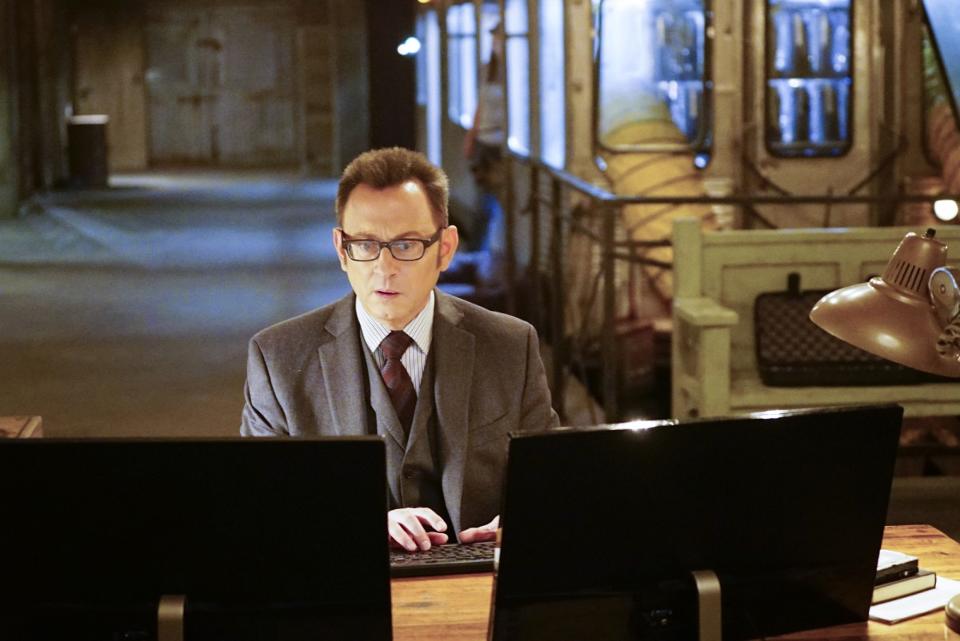 Harold Finch (Michael Emerson) contemplates the ending of an era. (John Paul Filo/CBS)
For now, Emerson is "laying low, making up for lost time," before moving on to the next thing. He's seen some guest spot parts come his way, but he's looking for something different: not a serial killer, not a professor. "I don't want to wear out my welcome in certain modes."
In theater, he typically plays comedic roles, he said.
"It would be nice to go on the stage again. Something will come along," Emerson said. "Film would be fine, too. I never spent a lot of energy chasing that work, because it seems likely that you'll be disappointed or embarrassed--you'll fall in love and be rejected.
"I'm a funny character type, and I think I'm at an age where most of the parts I get are ones where I'm exactly right."
So would he try again replicate the success he had in getting Bad Robot to match him up with "Person of Interest?"
"In a year's time, when I have nothing going on, I might call," he said. In the meantime though, there's one Abrams-helmed property he wouldn't mind being part of: "Star Wars." Note to J.J.:
"I'll play any kind of alien. Put horns on me. I'm up for that."
5 Things You Might Not Know About Person of Interest's Michael Emerson

By DR. NANCY BERK @nancyberk - http://parade.com/476251/nancyberk/5-things-you-might-not-know-about-person-of-interests-michael-emerson/

Michael Emerson (Photo by Jean-Claude)
9 mai. / 2016 - Person of Interest actor Michael Emerson just might be one of the most fascinating guys on television. His journey into show business hasn't been a straight line and given that Emerson isn't all over social media posting selfies, there's that cool mystery guy thing going on as well. Below are 5 reasons why the Emmy Award-winning actor is a real person of interest.
Person of Interest airs Mondays and Tuesdays on CBS 10 p.m. ET.
It was a long and winding road to prime time for Michael Emerson.
Acting was Emerson's first vocational choice. Until it became a financially feasible career option, he supported himself with odd jobs in retail, landscaping and house painting while doing community theater in his spare time.
Emerson once worked as a freelance illustrator.
Like many creative types, Emerson's talent extends beyond acting. After college, while in New York City pursuing his acting career, Emerson took art classes at The New School and pursued work as a freelance illustrator for about 10 years. Acting was still his passion, but he admits that for him, rejection in the illustrating world was less painful. "It's not really an easier racket than acting is," Emerson says. "For some reason, I guess it had—the rejection of an illustrator's life is less penetrating than the rejection of an actor's life. So I was able to manage that. But all the while, I still nursed that old dream of being an actor…"
Listen to the interview with Michael Emerson on iTunes.

Emerson has believably portrayed a serial killer, a sociopath and a sensitive brainiac billionaire.
Not one to be typecast, the highly acclaimed actor has convincingly played memorable roles that are polar opposites. From The Practice's serial killer William Hinks to Person of Interest's life-saving billionaire Harold Finch, Emerson knows how to rock a role, then check it at the door and master the next fascinating one that comes his way.
Carrie Preston, Emerson's wife, played his love interest in Person of Interest and the mother of his character Ben Linus in Lost.
"It's a Freudian nightmare," Emerson says about the couple's Lost connection.
Unlike Harold Finch, Emerson is not computer savvy.
Emerson can talk a good game when it comes to tech, but the actor is clueless when it comes to conquering a virtual virus. "I'm the worst at a computer," he says. "I need to ask my wife to help me solve really simple computer operations. I'm terrible with tech. But I'm good with jargon. I can sound like I know what I'm doing."
Read more about Michael Emerson.
Listen to Nancy's interview with Michael Emerson on iTunes and follow the podcast on Facebook.
Nancy Berk, Ph.D. is a clinical psychologist, author, comic and entertainment analyst. The host of the showbiz podcast Whine At 9, Nancy digs a little deeper as she chats with fascinating celebrities and industry insiders. Her book College Bound and Gagged: How to Help Your Kid Get into a Great College Without Losing Your Savings, Your Relationship, or Your Mind can be seen in the feature film Admission starring Tina Fey and Paul Rudd.
14
From Our Partners