Rarities in 'The Monkees – The Complete Series' Blu-ray set revealed
Details

Hits: 1192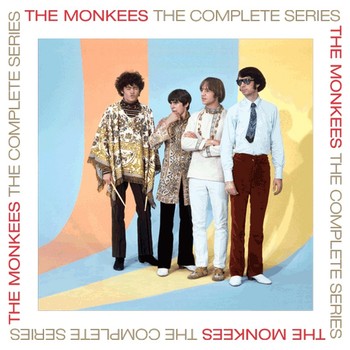 The cover of Rhino's new Blu-Ray box set of the Monkees' TV series
Rarities in 'The Monkees – The Complete Series' Blu-ray set revealed

The complete contents of the limited edition The Monkees – The Complete Series on Blu-ray, coming this month, was revealed Jan. 12. It will include all 58 episodes, newly remastered in HD in mono from the original negatives. Also included on discs 1 through 7 with the series episodes will be new audio commentary from Micky Dolenz, Rodney Bingenheimer and "Monkee Girl" Valerie Kairys Venet and alternate "Saturday morning rerun" versions of 10 episodes with alternate songs and mixes.
Disc 8 will feature The Monkees movie Head remastered in HD with an optional DTS-HD Master Audio 5.1 surround soundtrack and audio commentary available from all four Monkees. Disc 9 will have the 1969 NBC television special 33 1/3 Revolutions Per Monkee restored from newly discovered video elements with an option for audio commentary from Micky Dolenz.
The 10th disc, a bonus disc only available in this edition, will have original screen tests, original Monkees TV commercial spots for Kellogg's cereals and newly discovered outtakes from the series. It will also include rare Monkees appearances on other shows not seen since their original airing, including a newly discovered color promo film for "Randy Scouse Git" created for Top of the Pops; the Monkees on The Johnny Cash Show in 1969, singing "Nine Times Blue" and "Everybody Loves A Nut" (the latter with Johnny Cash); an appearance on The Glen Campbell Goodtime Hour in 1969 doing a medley of "Last Train to Clarksville"/"I'm A Believer"/"Salesman" and also singing "Tear Drop City"; and a guest spot on Rowan and Martin's Laugh-In in 1969.
There will be other rare items on the disc, including a Davy Jones singing "Someday Man" from the 1969 TV special Music Bag unseen since its original airing, never-before-seen backstage footage of The Monkees at the 1967 Emmy Awards, newly discovered outtakes from the movie Head and a newly restored color promo film for "Oh My My." The set, which will have a 3-D lenticular cover and also include a 7" 45 RPM record with unique TV mono mixes of "Star Collector" and "Goin' Down," will be limited to 10,000 copies. It is only being sold through the Monkees website. Cost is $199.98.