Apple: Fumamos bananas com David Peel
Details

Hits: 2199
Fumamos bananas com David Peel
por: Mário Pacheco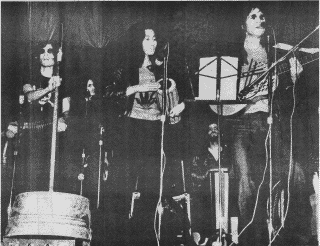 David "Casca" pertence à geração de Jerry Rubin e é mais um dos heróis cult da contracultura americana, que em 1968, lançou com a banda Lower East Side, de Nova York, o clássico folk Have a Marihuana, de onde saiu a música-hino I Like Marihuana:
Mara-Marihuana, Mara-Marihuana/Mara-Marihuana, Mara- Marihuana/ I like Marihuana, you like Marihuana/We like Marihuana too/I want to get high/I want to get stoned/Mara-Marihuana/I want a little pot/I'll smoke it a home/Mara-Marihuana.
Na revista contestadora Others Scenes, o crítico de folk, Israel Young, disse do grupo de David Peel: "Este grupo estava presente em qualquer acontecimento local, seja grande ou pequeno, grátis ou remunerado cantando com a confiança de quem conseguia expressar os sentimentos daquele que, naquele momento, os escutavam".

Em 1972, John Lennon produziu um disco de Peel e a Lower East Side Ono Band chamado The Pope Smokes Dope (O Papa Puxa...).
Em fevereiro de 1989, Jerry Garcia, o "Dr. Trips" numa chamada de capa da revista High Times jogou uma pérola: "Fumamos bananas com David Peel". Peel está vivo e continua... cantando!
--------------------------------------------------------------------------------

David Peel was one of the first persons John & Yoko met after arriving in New Yorkin late May, 1972. He was a street-wise musician/political activist who grew up in New York Citiy. Elektra Records released his albums "Have A Marijuana" in 1968 and "The American Revolution" in 1970. John & Yoko produced the album "The Pope Smokes Dope", which was released as Apple SW-3391 on April 3, 1972. The album charted for three weeks, peaking at number 191. Apple released two promotional singles from the album, F Is Not A Dirty World (PRO-6498) on April 20, 1972, and Hippie From New York City (PRO-6545) on June 16, 1972. Both discs have The Ballad Of New York Citiy on the B side. Although some books and articles claim that John provides backing vocals and/or dobro on some of the album's songs, David Peel insists that John only produced the record and did not play or sing.

* The Beatles Solo On Apple - by Bruce Spizer