Them Crooked Vultures
Details

Hits: 1752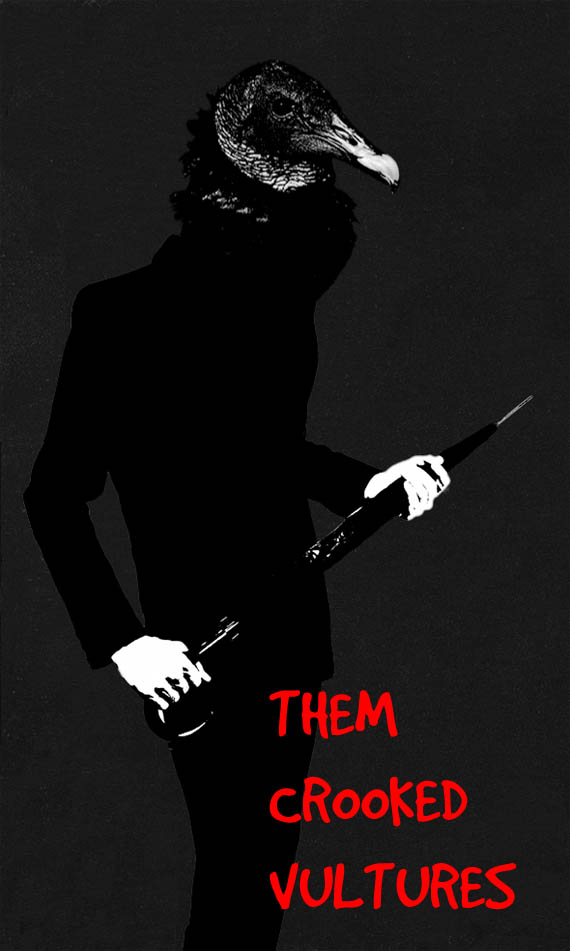 Barbieri Recomenda!!!
Raramente uma banda nova aparece com tanta qualidade. Também chamar Them Crooked Vultures (Eles Abutres Trapaceiros) de banda nova é golpe baixo. Este power trio formado por Dave Grohl (Nirvana, Foo Fighters) na bateria, Joshua Homme (Kyuss e Queens of the Stone Age) na guitarra e finalizando, nada mais nada menos, que John Paul Jones (Led Zeppelin) no baixo já vem com o pedigree de "supergroup" carimbado na testa! O Dave Grohl encarnou o batera do Led e bate pesado mesmo. Aliás, nunca gostei do Dave Grohl como vocalista no Foo Fighters. Isso meu filho! Vá fazer aquilo que você sabe fazer bem! Só faltou o Jimmy Page pondo um solinho aqui e outro ali para a coisa ficar mais brutal!!!
O primeiro álbum homônimo da banda foi lançado dia 15 de novembro no Reino Unido e no dia 16 de novembro nos Estados Unidos e Canada.
Para mim, o álbum é um prato cheio! O velho e bom rock'n'roll está presente sem frescuras não só em termos de rítmos como também nas escolhas dos timbres e texturas. Referências ao velho Led abundam mas, como um crítico sugeriu, parece também uma fusão de Cream com Primus. Tenho certeza que o caro ouvinte encontrará no som do "Vultures" muitas outras referências tiradas de bandas clássicas do passado. Outro comentário feito, é de que este álbum já é um dos melhores lançados nos últimos 10 anos. Melhor ainda é saber que, pelo que parece, o segundo álbum já está à caminho....
Os créditos conforme mencionados no CD:
PRODUCED BY: THEM CROOKED VULTURES
RECORDED AND MIXED BY: ALAN MOULDER
DEAD END FRIENDS, REPTILES, INTERLUDE WITH LUDES RECORDED BY: ALAIN JOHANNES
ADDITIONAL VOCALS RECORDED BY ALAIN JOHANNES
RECORDED AT PINK DUCK STUDIOS ~ BURBANK, CA AND CHALICE STUDIOS ~ HOLLYWOOD, CA
ASSISTED BY: JUSTIN SMITH
MIXED AT CHALICE STUDIOS ~ HOLLYWOOD, CA
ASSISTED BY: CHRIS KAYSCH
MASTERED BY: BRIAN GARDNER AT BERNIE GRUNDMAN MASTERING ~ HOLLYWOOD, CA
ASSISTED BY: MIKE BOZZI
TECHS: DRUMS ~ GERSH FOR DRUMFETISH EVERYTHING ELSE ~ ALASTAIR CHRISTIE
GRAPHICS AND ARTWORK: LIAM LYNCH ~ ART DIRECTION: MORNING BREATH INC.
THEM CROOKED VULTURES IS:
DAVE GROHL
JOSHUA HOMME
JOHN PAUL JONES
ALL SONGS WRITTEN BY: THEM CROOKED VULTURES